Honeycomb of Goats Cheese With Figs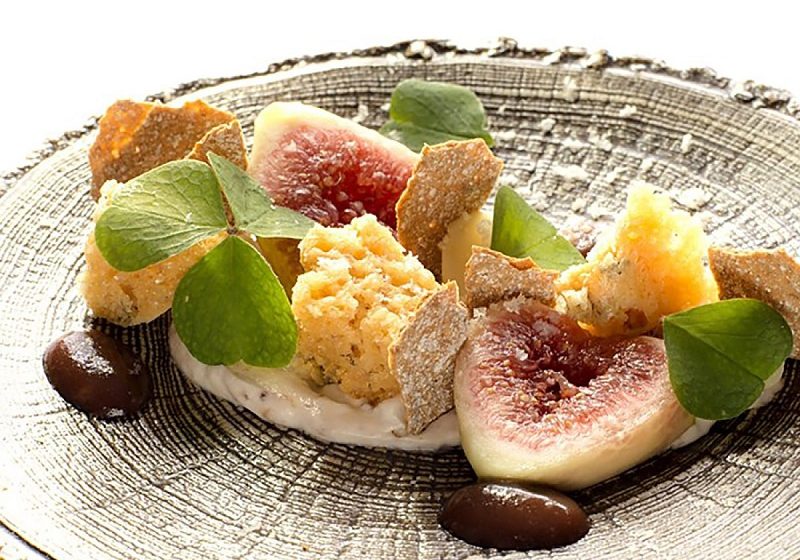 Ingredients
Cooking Time: 45 minutes (plus 1 week to macerate the figs)
Serves 4
Macerated figs
4 ripe black figs
5 slices of orange zest
2 star anise
Cloudberry liqueur 
Fig and walnut oil purée
200g of fig purée
20g of walnut oil
50g of cloudberry liqueur
20g of balsamic vinegar, aged 
Goat's cheese honeycomb
50g of goats' cheese
Goats' cheese and fig mousse
100g of goats' cheese
85g of whipping cream, whipped to soft peaks
30g of milk
20g of walnut oil
20g of dried figs
20g of fig purée
To serve
Peter's Yard cripsbreads, broken into pieces
Wood sorrel
How to make it
This honeycomb of Goats Cheese with Figs recipe has been created using Peter's Yard crispbread for Great British Chefs. It details lots of interesting flavour combinations that may inspire you to try something a little different. The recipe is by Phil Fanning who owns and is executive chef at the Michelin starred Paris House in Woburn. His cooking is contemporary with layers of taste from unusual ingredients and an eye for theatrical mischief.
Add the figs, zest, anise and liqueur to a jar, seal and leave for 1 week
Add the fig purée to a pan and reduce by half, sieve to remove any seeds and mix in the oil, liqueur and vinegar, set aside
Line a ramekin (or coffee cup) with baking paper and put the 50g goat's cheese in the bottom.
Microwave (600w) for 2-3 minutes until golden brown and set aside to cool before draining any liquid/oil on kitchen towel
Beat the milk and 100g of goat's cheese together until smooth, then fold through the whipped cream, oil, dried figs and purée.
Chill to set the mousse
Spread the set mousse on a serving plate. Add two macerated fig halves, some of the honeycomb, fig purée, crispbreads and sorrel
Other recipes
We love Goats Cheese With Figs, here are some similar ideas:
Baked figs with Gorgonzola – This recipe could be both a starter and a dessert. It could even be a light lunch, or a snack. The sweet figs, creamy gorgonzola and salty prosciutto is a winning combination.
Fig, Brie and Rosemary Tart – We love this recipe from Milk Made, where oozing brie meets sweet, fattened figs. This tart is neither very sweet nor very savoury so you could serve it for lunch with a green salad, or for dessert with sweet yoghurt.
Figs with Manchego and walnuts – The sticky sweetness of figs is perfectly accompanied with salty and dry Manchego. Figs with Manchego could be a great addition to a cheeseboard or as a party canape.