Croquettes with Lancashire Cheese and Bacon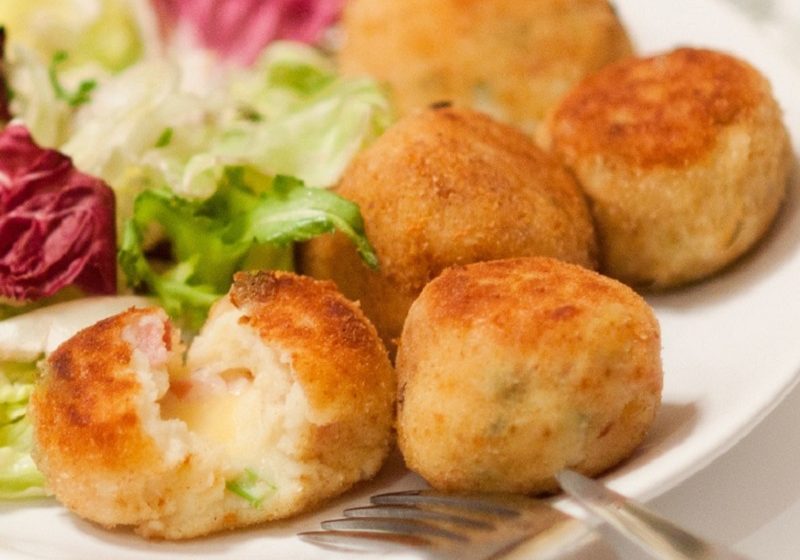 Ingredients
1kg floury potatoes
salt and pepper
streaky bacon rashers, de-rinded and cut into narrow strips
125g Shorrock's Lancashire Bomb
50g butter
2 tbsps chopped flat-leafed parsley
2 large eggs
125g fine fresh breadcrumbs
oil for frying
How to make it
Croquettes are often made with mozzarella, but traditional British croquettes used Lancashire cheese, so we've created this version using the wonderfully crumbly Shorrock's Lancashire Bomb. Great as a starter served with Godminster Beetroot and Apple Chutney.
Peel the potatoes and cut into large chunks. boil them in lightly salted water until tender, approx 15-20mins
Drain the potatoes and return to the pan then mash over a low heat to dry them out
Fry the bacon until brown and crisp
Mix the bacon into the potato mash, crumbled cheese, butter and parsley. Season and leave to cool
Separate the eggs into whites and yolks
Once the mixture is cool add the egg yolks and mix
Shape into golf-ball sized balls, approx 20
Lightly whisk the egg whites in another bowl. Dip the potato balls into the egg white, then into the breadcrumbs, making sire to evenly coat the balls
Arrange on a flat dish to chill until ready to fry
Head the oil in a pan until very hot. Carefully lower the balls, a few at a time, into the oil, cooking for 2-3 minutes or until crisp and brown
Drain on kitchen paper.
Serve with Godminster Beetroot and Apple Chutney.