Montgomery Cheddar Cheese Souffle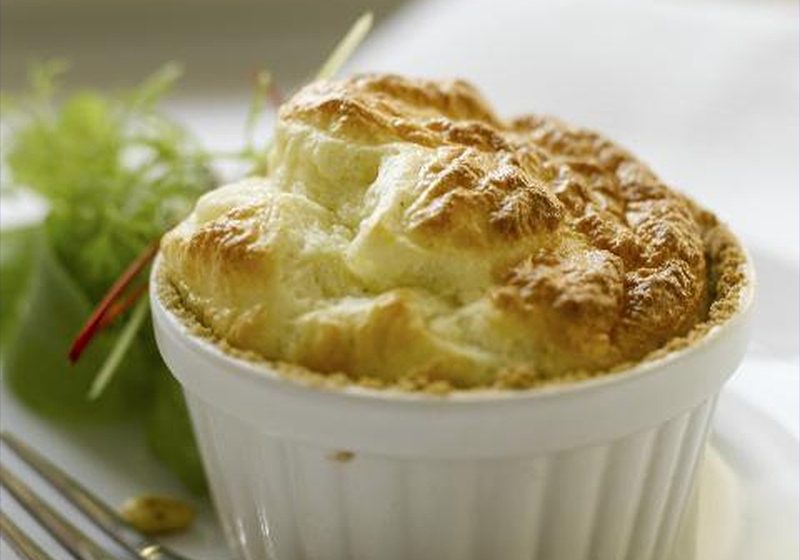 Ingredients
Serves: 4
50g butter
150ml milk
100g Montgomery Cheddar
60g mixed breadcrumbs
50g plain flour
2 egg yolks
5 egg whites
40g ground walnuts
How to make it
These Cheese Souffles are the perfect dish to make with a mature, good quality Cheddar; we've chosen Montgomery Cheddar. You can use any cheese and in fact blue cheeses work particularly well.
1. Butter four ramekins with soft butter and freeze – repeat three times to ensure a good coating. Coat the inside of each ramekin with breadcrumbs and walnuts mixed together.
2. Melt butter in saucepan and add flour stirring until the mixture becomes a light coloured roux.
3. Still stirring, gradually add the milk and then add the grated Montgomery Cheddar cheese.
4. Pour this mixture into a bowl and beat in the egg yolks. Season with salt and pepper.
5. Whisk the eggs whites to soft peaks and add a little lemon juice. Carefully fold the egg whites into the mixture.
6. Gently pour the soufflé mixture into each ramekin. Smooth with a spatula and place in baking tray filled with boiling water.
7. Place in a preheated oven at 180 degrees c and bake for 15-20 minutes until golden brown. Serve immediately with a green salad.
(Cheese Souffles recipe is courtesy of the British Cheese Board)
Other souffle recipes
Smoked Lincolnshire Poacher Soufflés not only look the business, but the cheese has an earthy and powerful taste that is nuttier than a mature cheddar with overtones of an aged alpine cheese. It takes this classic dish to a whole new level.
Master the cheese soufflé with this delicious recipe from Milk Made, featuring strong blue cheese and a hard Alpine cheese.