Pineapple and Carrot Cake with Neufchatel Cream Cheese Frosting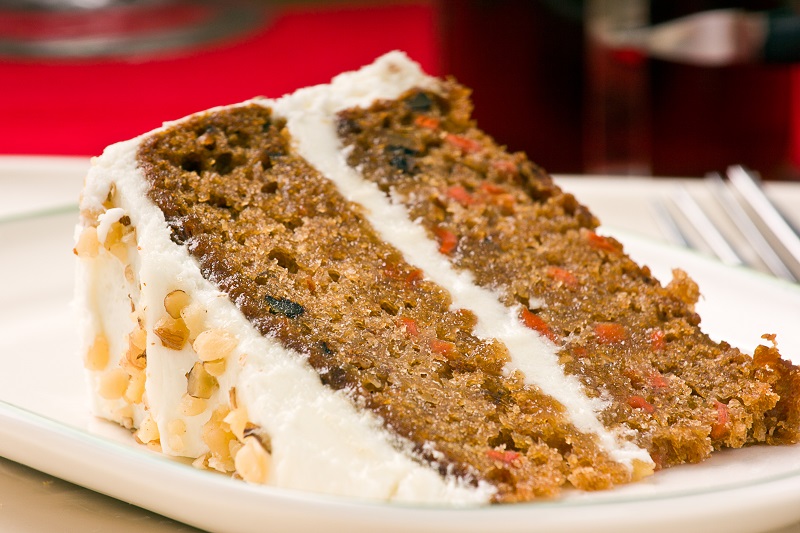 Ingredients
Serves 12
500g carrots, grated
340g plain flour
340g caster sugar
1 teaspoons of bicarbonate of soda
1/2 teaspoon of baking powder
1/2 teaspoon ground cinnamon
2 large eggs
175g vegetable oil
1.5 teaspoons of vanilla extract
1/2 can crushed pineapple with juice
170g chopped pecans
340g granulated sugar
2 tablespoons cornflour
100g Neufchatel AOC
85g margarine
How to make it
Neufchatel AOC cheese makes the most delicious cream cheese frosting, try it in this wonderful pineapple, carrot and pecan cake for moist and creamy bites.
Preheat oven to 180°C
Grease and flour a 7×23 cm tin
Combine the carrots, flour, sugar, bicarbonate of soda, baking powder, salt and cinnamon
Stir in the eggs, oil, vanilla extract, pineapple  and 175g chopped pecans
Mix until smooth then transfer to the tin
Bake for approx 30-40 mins
To make the frosting combine the granulated sugar, cornflour, Neufchatel AOC cheese, margarine, vanilla extract
Beat until smooth then mix in 30g chopped pecans
When the cake is cool spread the cream cheese frosting through the middle and on the top
Decorate with a sprinkling of the remaining chopped pecans
Other recipes:
Nothing beats a home-made pizza. This base is crispy with a nice thick crust, and the three cheeses give you mouthwatering flavour with every bite. It's sure to get your loved one's heart racing this Valentine's day.
If you're a dab hand at choux pastry then you'll have no problems with these gougères filled with delicious Comté and mushrooms. Serve with a lightly dressed salad for a light lunch or with a side of Cartwright and Butler Piccalilli for a party canapé.
A light and elegant lunch. These griddle cakes are served on a bed of finely shredded leek and red pepper and accompanied by lightly smoked lean grilled bacon strips.