Pont l'Evêque Potato Gratin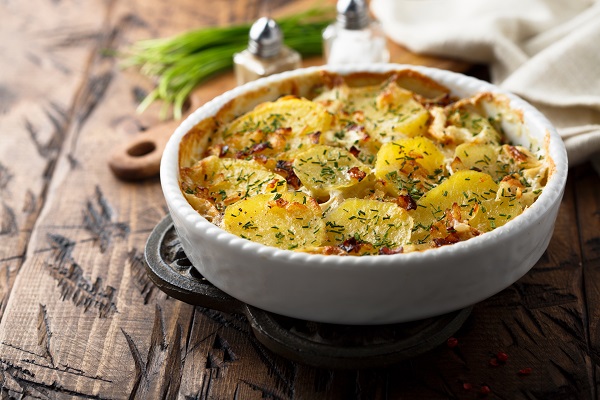 Ingredients
220g Pont l'Eveque
1 onion
15cl Crème Fraîche
1.2kg steamed potatoes
200g chopped bacon
30g butter
Salt & pepper
How to make it
Pont l'Evêque Potato Gratin is an excellent winter dish, served with grilled meat and steamed green vegetables. Get the fire roaring, crack open a bottle of red and invite your friends around.
Preheat the oven to 350°F / 180°C
Peel and chop the onion
Brown the onion on medium heat with 2/3 tbsp butter for 5 minutes
Add the bacon bits and cook for 5 minutes
Peel and slice the potatoes into half-inch slices
Steam until cooked
Butter a deep baking dish with the remaining butter
Add a layer of sliced potatoes, then add salt and pepper
Add a layer of the onion-bacon mixture, cover with 1/3 tbsp of cream, and add pepper
Repeat twice
Cut the Pont-l'Evêque cheese into slices that are 1/3 inch thick
Place them on top of the potatoes
Bake for 25 minutes
Serve the Pont l'Evêque Potato Gratin warm with steamed veg and more grilled meat such as sausages or pork chops
Original recipe from Taste Of France.
Other winter bakes
When pumpkins are in season it's always a joy to be able to actually use it for cooking, not just carving! Try this wintery warming bake with delicious and buttery Taleggio.
This simple layered vegetarian Cheddar and Aubergine Bake makes the most of fabulous Farleigh Wallop goat's cheese and mighty Montgomery Cheddar.
This rich and filling three cheese Gratin with salami is a meal in itself – ideal for a cold winters night, and uses the very best of our Alpine cheeses – Comté and Le Gruyere. Serve with a crisp green salad.