Farleigh Wallop, Montgomery Cheddar and Aubergine Bake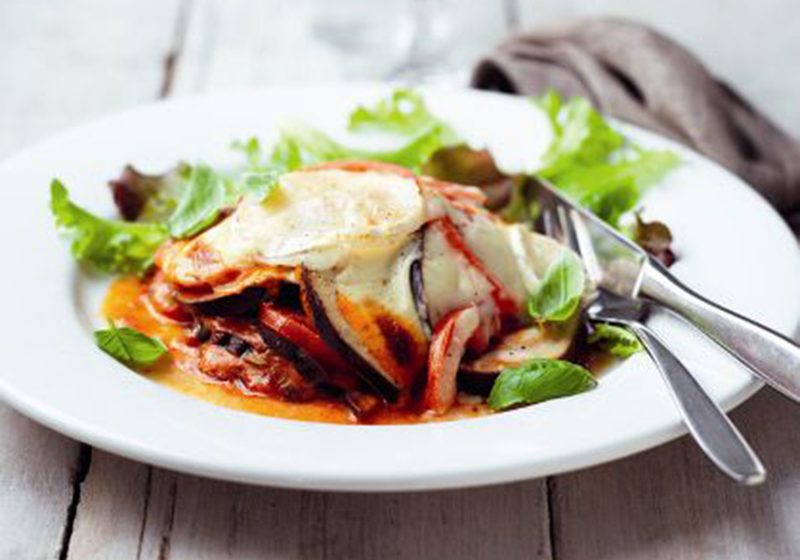 Ingredients
Serves 4
Preparation time 20 minutes
Cooking time 35 minutes
Suitable for vegetarians
Suitable for freezing
25g (1oz) butter
25g (1oz) plain flour
300ml (1/2 pint) milk
50g (2oz) Montgomery Cheddar, grated
1 tsp wholegrain mustard
440g jar tomato pasta sauce
2 medium aubergines, sliced
4 large tomatoes, sliced
1 tbsp chopped fresh rosemary or thyme
100g (4oz) Farleigh Wallop goat's cheese, thinly sliced
Salt and freshly ground black pepper
How to make it
This simple layered vegetarian Cheddar and Aubergine Bake makes the most of fabulous Farleigh Wallop goat's cheese and mighty Montgomery Cheddar.
1. Preheat the oven to 180°C / fan oven 160°C / Gas Mark 4. Grease a large baking dish with 1 tsp butter.
2. Put the remaining butter into a non-stick saucepan with the flour and milk. Bring to the boil, stirring constantly with a small whisk to make a smooth sauce. Remove from the heat and add the Cheddar and mustard, stirring until melted. Season.
3. In a large baking dish, arrange layers of half the pasta sauce, half the aubergine slices and half the tomatoes Sprinkle with the rosemary or thyme and a little salt and pepper, then repeat the layers. Pour the cheese sauce on top, then arrange the Farleigh Wallop goat's cheese over the surface.
4. Bake for 35-40 minutes, until golden brown.
Cook's tip: Finish off the Cheddar and Aubergine Bake with more grated Cheddar instead of goat's cheese, if you prefer.
(Courtesy of the British Cheese Board)
Other bakes…
This Gorgonzola Pasta Bake has a crusty walnut and bread topping which makes it like a crumble. With added vegetables it's a great dinner option for the whole family.
When pumpkins are in season it's always a joy to be able to actually use it for cooking, not just carving! Try this wintery warming bake with delicious and buttery Taleggio.