Smoked Haddock and Celtic Promise Cheese Chowder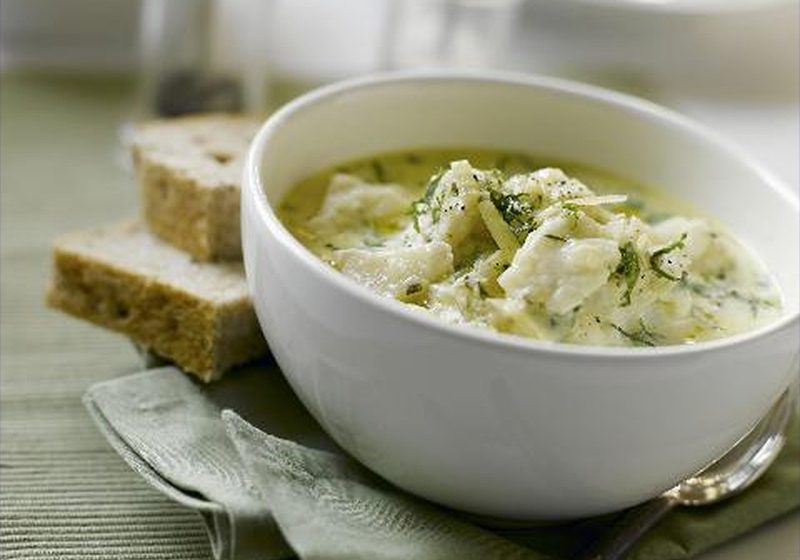 Ingredients
Serves 6
2 tbsps olive oil
40g butter
2 medium onions, finely chopped
1 medium leek, chopped (white part only)
3 celery stalks finely chopped
2 cloves garlic, sliced
1 glass white wine
350g potatoes peeled and chopped
1 litre vegetable stock
1 pint milk
Half pint double cream
500g natural smoked haddock, without skin or bones
200g grated Celtic Promise
2 tbsps chopped parsley
Salt and pepper to season
Extra virgin olive oil for drizzling
How to make it
The gorgeous taste combination of smoked haddock and the creamy and strong Celtic Promise makes this Cheese Chowder more comforting than a lie in.
1. Poach the haddock in the milk and cream for 5 – 6 minutes, and then flake and leave in cooking liquor. Put to one side and allow to cool.
2. Melt the butter and oil and gently fry the onion, celery, leek and garlic until translucent (about 5 mins).
3. Add the wine and reduce by half.
4. Add potatoes and stock, season, and cook for 20 mins until potatoes start to break up.
5. Remove from heat and add the flaked haddock and the milk mixture.
6. Add half of the grated Celtic Promise and taste for seasoning.
7. Divide between six soup bowls and garnish with the remaining cheese, chopped parsley and a little extra virgin olive oil.
(This Smoked Haddock and Celtic Promise Cheese Chowder recipe is courtesy of the British Cheese Board)
Other recipes
Hot cheese sauce served over slices of toasted bread, what's not to like with Welsh Rarebit? Celtic Promise offers a rich full flavour to boot.
A classic croque monsieur with the added twist of blue cheese and crusty ciabatta makes for a decadent lunch!