Smoked haddock with an Epoisses sauce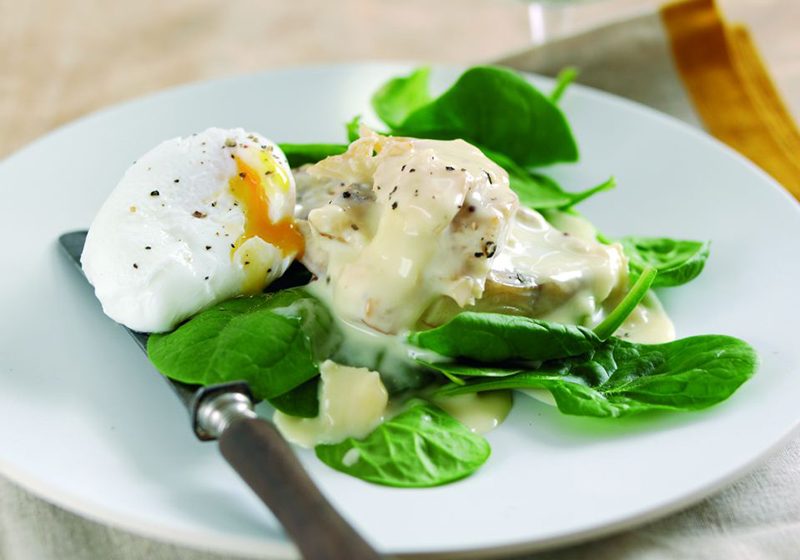 Ingredients
½ or about 150g of Epoisses Cheese
450g natural smoked haddock
150g white wine
A splash of double cream
½ tsp wholegrain mustard
1 bag baby spinach
4 poached eggs
How to make it
This Smoked haddock with an Epoisses sauce recipe was created by head chef Paul Capener for the Vive le Cheese competition. We love anything created with Epoisses and this is really easy to recreate!
Take the haddock and place it in a saucepan with the wine. Simmer for about 5 minutes to lightly poach the fish. Tear the Epoisses cheese into chunks and add to the wine and fish. Stir gently to mix. Add a large splash of cream and heat through. Take a large handful of spinach and place onto each plate, top with a large spoonful of the haddock and Epoisses mixture, the heat from the sauce will wilt the spinach slightly. Top with a lightly poached egg and serve immediately.
By Paul Capener: Regional winner of the of the Vive le Cheese competition for the South East
Other recipes
This recipe is a variation from chef Ludo Lefebvre's original creation, we like the balance of salty ham and sweet apple with the pungent and rich Époisses de Bourgogne AOC. We scatter cheddar and a little sugar over the top for extra decadence.
The combination of salty bacon, sweet date and savoury Bocconcino di Langa make these cheese wrapped dates totally scrumptious. Bocconcino means "little mouthful" so it seems the perfect cheese to use.