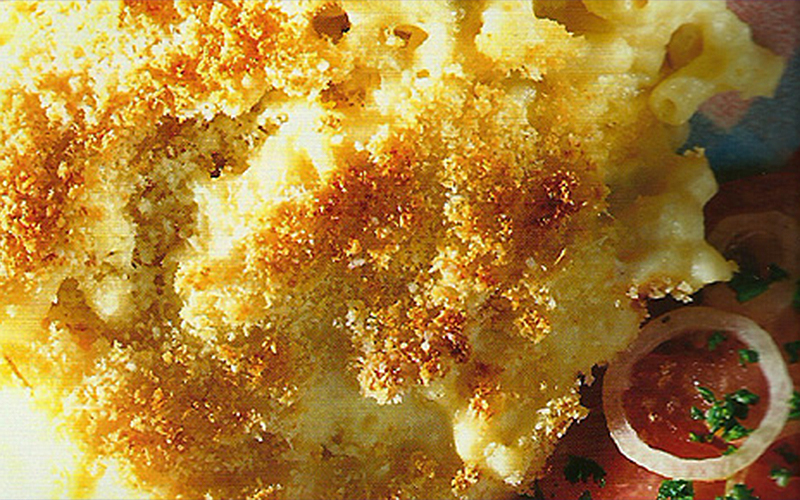 Ingredients
(Serves 6 – 8)
375g (12 oz) short-cut macaroni
Salt and black pepper
45g (1 1/2 oz) butter, plus extra for greasing
45g (1 1/2 oz) plain flour
900ml (1 1/2 pints) milk
2 tsp Dijon mustard
175g (6 oz) Smoked Cheddar, grated
60g (2 oz) light mozarella cheese, grated
90g (3 oz) mature Cheddar cheese, grated Buy Westcombe Cheddar cheese
60g (2 oz) fresh white breadcrumbs
Tomato and onion salad to serve
How to make it
1. Cook the macaroni in boiling salted water for 8 – 10 minutes until just tender. Drain and set aside.
2. Melt the butter in a large saucepan. Add the flour and cook, stirring for 1 minute. Remove the pan from the heat and gradually blend in the milk. Bring to the boil, stirring constantly until the mixture thickens. Simmer for about 5 minutes, stirring.
3. Stir in the mustard, smoked Cheddar and mozarella cheese, and the cooked macaroni. Season with salt and pepper.
4. Lightly butter a large shallow ovenproof dish and spoon in the macaroni mixture. Sprinkle with the breadcrumbs and the remaining Cheddar cheese and bake in a preheated oven at 200C (400F , Gas 6) for about 15 – 20 minutes until golden and bubbling.
Serve with a tomato and onion salad.
Recipe courtesy of 'Supper for Friends' by Mary Berry published by Dorling Kindersley. Visit the DK site to buy the book