Yorkshire Blue Cheese Muffins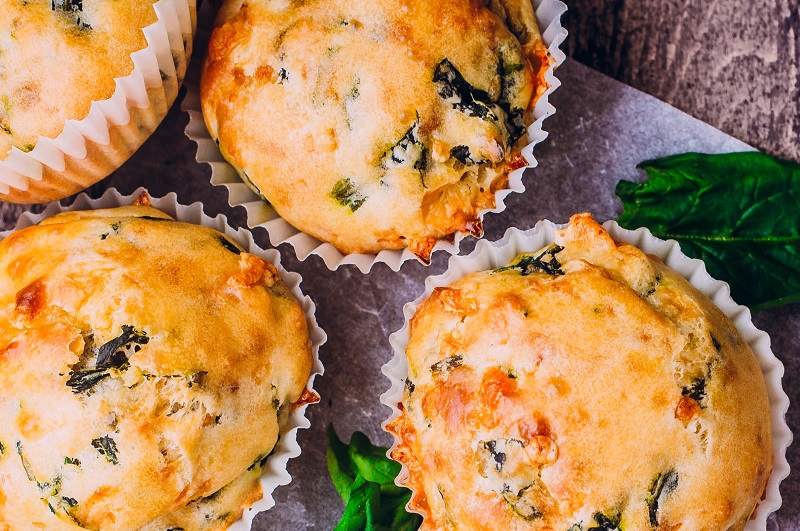 Ingredients
Serves 6
200g self-raising flour
150g Shropshire Blue, crumbled
2 tbsp chopped parsley
1/2 tsp salt
120ml semi-skimmed milk
150ml sunflower oil
1 egg
How to make it
Yorkshire Blue Cheese Muffins are a joy for breakfast, snacks, lunches, picnics, soup side-dishes or suppers. They have a soft and bouncy sponge, and a kick of salty, nuttiness from the Yorkshire Blue.
Preheat oven to 180°C/ 160°C fan/ gas mark 4
Place muffin cases in a muffin tray
In a large bowl mix the flour, Shropshire Blue, parsley and salt together
In a separate bowl mix combine the milk, sunflower oil and egg
Make a well in the middle of the dry ingredients and add the wet mixture
Stir lightly until only just combined
Spoon the mixture into the muffin cases
Bake for 20-25 mins until they are firm and golden brown
Serve these Shropshire Blue Cheese Muffins warm
Yorkshire Blue can be bought individually as 180g piece, or as part of the Wallace and Gromit Cracking Cheese Box.
For another Yorkshire Blue recipe, try this  sweet and salty blue lasagne – packed with goodness.
For another muffin recipe, Goddess Cheese Pine Nut Muffins have vibrant strips of aromatic basil running through them. Delicious buttery cheese with pine nuts.
For our full range of blue cheeses, click here. The range includes Alex James Co. No 2 Blue Monday, the connoisseurs blue cheese Fourme d'Ambert AOC and intensely creamy Gorgonzola Dolce DOP.