Kings, Queens and Their Favourite Cheeses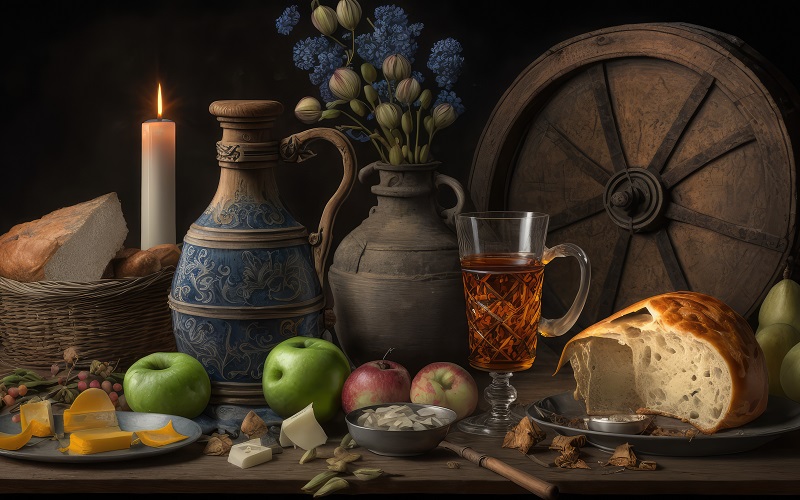 From soft cheese to blue, hard to goat's, one thing's clear; no British royal banquet is complete without cheese. Throughout the centuries, royalty has been enjoying cheese in all shapes and forms. To celebrate The King's coronation, we've taken a look at royal cheese through the ages…
King Arthur (6th Century)
We know cheese has been made and enjoyed as far back as 9000BC, with evidence it was being made by the Egyptians, Romans and Greeks. But when it comes to English royalty, the earliest mention we can find comes from the 6th century. A poem in the Gawain manuscript (written in the 14th century) details happenings at Camelot, at King Arthur's banquets. The knights of the round table are described celebrating with games of jousting and tourneying, ring-dancing, music and dancing though the night. Then they would sit down to a traditional feast that includes bread, cheese, pottage and meat.
During this period monks were known to be making cheese in Yorkshire. The cheeses would have either been hard, like a Berkswell, or washed rind and more pungent, like a Stinking Bishop.
King Henry II (1154 – 1189)
Records show that King Henry II purchased 10,240 lbs (4644kg) of cheddar at a farthing per pound.  That's £10.67 in today's money for nearly 5000kg of cheese! As cheddar was only made in the Cheddar Gorge area at the time, we can assume that something similar to Wookey Hole Cave Aged Cheddar was the cheese of choice.
Cheddar was so popular during these times that it was only available at the King's court and it was made to order. Records show that King henry's son King John (1199 -1216) would regular buy it for his royal banquets.
Richard the Lionheart (1189-1199)
In between King Henry and King John was of course, Richard the Lionheart's reign. When Richard wasn't on a crusade, he spent his life in France at his castle in the Dordogne region. Soft cheeses were the most prevalent cheese in that region so we believe he would have been feasting on something similar to a Coeur de Berry or Neufchatel, as well as Roquefort and Cantal. Research shows one shopping bill of £14,000 (in today's money) on food which included "14,000 cured pig carcasses, huge numbers of cheeses and beans".
Henry VIII (1509 – 1547)
In 1511, Henry VIII's letters and papers tell that the pope sent Henry one hundred wheels of Parmesan cheese. Later in 1529 the Duke of Ferrera gifted Henry's court aides with Parmesan whilst on the King's business in Italy. So it's safe to say that this gorgeously nutty and incredibly famous hard cheese was favoured in Henry VIII's court. He would eat the cheese with quince 'paste', so perhaps something similar to quince fruit cheese – a fruit compote made from quince. Quince fruit cheese is wonderful with hard cheese so it's not hard to see why this was often his choice of snack!
Queen Elizabeth I (1558 – 1603)
Historians tell us that cheese was eaten frequently during Elizabethan times, with more refined cheeses eaten at the end of main courses with chestnuts, walnuts and hazelnuts. Sweet dishes were actually eaten between savoury courses and not as dessert. Cheese in the royal household was a delicacy and stored in boxes with holes in, kept locked to prevent unauthorised nibbling. Queen Elizabeth would have undoubtedly followed in her father's footsteps and had hard cheeses imported from Italy. Cheshire cheese was England's most popular cheese during the 1600s, so maybe something like a Wensleydale or Shorrock's Lancashire Bomb was served.
Queen Victoria (1837-1901)
It is well-versed in history books that Queen Victoria was gifted over half a ton of cheddar in one huge 9ft diameter cheese wheel as a wedding gift in 1840. It was made by a group of farmers from Somerset who combined the milk of 750 cows to make the giant cheddar. Even though it's reported that Queen Victoria had a healthy appetite, she was apparently unable to finish this enormous offering. Perhaps a more manageable Somerset Organic Cheddar would have sufficed.
Queen Elizabeth II (1926 – 2022)
We know a lot about Queen Elizabeth's food preferences, either from royal warrants issued or directly from her royal chefs. According to chef Darren McGrady, the monarch snack of choice was a croque monsieur. Traditionally this is made with Gruyere but as the queen was a great lover of Scotland, we'd be recommending Isle of Mull cheddar. Other cheeses and makers to hold the royal warrant include Camembert de Normandie AOC, Caws Cenarth (Golden Cenarth, Perl Wen, Perl Las Blue) and Charles Martell (Stinking Bishop).
King Charles III (2023 -)
King Charles is in fact a patron of the Specialist Cheese Makers Association, a British organisation established to encourage excellence in cheesemaking. As part of his role he occasionally visits artisan cheesemakers, and recently visited Lynher Dairies Cheese Company, makers of the excellent Yarg. This crumbly Cornish cheese is wrapped in nettles giving it a zesty finish. News outlets documenting the visit managed to catch King Charles almost dropping a package of the cheese that he was gifted, so we can guess that this wonderful cheese likely ended up in his and Queen Camilla's fridge!
Prince William
During a visit to Abergavenny Market in 2022 by the Duke and Duchess of Cambridge, a cheese market seller asked William what his favourite cheese was. He replied it was Kaltbach Creamy – to his surprise the market seller had some to hand for William to sample right there on the stall.
We hope this has given you plenty of inspiration for creating your own coronation royal cheese board, ready for the May celebrations! To help you celebrate, get 10% off the British Cheese range when you apply code ROYAL23 at checkout. Expires June 8th 2023 and limited to 1 code per customer.
Sources:
https://www.cheddaronline.co.uk/history-of-cheddar-cheese/
http://www.ayearinfromage.com/2020/07/heart-of-lion-coeur-de-coupigny.html#.ZDWLpnbMJD8
https://www.british-history.ac.uk/letters-papers-hen8/vol1/pp448-455
https://www.lovebritishhistory.co.uk/2020/03/henry-viiis-tudor-cheeseboard.html
https://www.worldhistory.org/article/1578/food–drink-in-the-elizabethan-era/
https://www.english-heritage.org.uk/visit/inspire-me/history-of-cheese
https://cheezus.co/history-of-cheddar
https://www.express.co.uk/life-style/food/1650811/queen-elizabeth-ii-favourite-cheese-paxton-and-whitfield-prince-charles-exclusive
https://www.cornwalllive.com/news/cornwall-news/prince-charles-nearly-drops-cornish-6766025
https://www.express.co.uk/life-style/food/1642661/prince-william-favourite-cheese-swiss-kaltbach-waitrose-duke-cambridge-royal-family-food