Bacon, Avocado and Roquefort Salad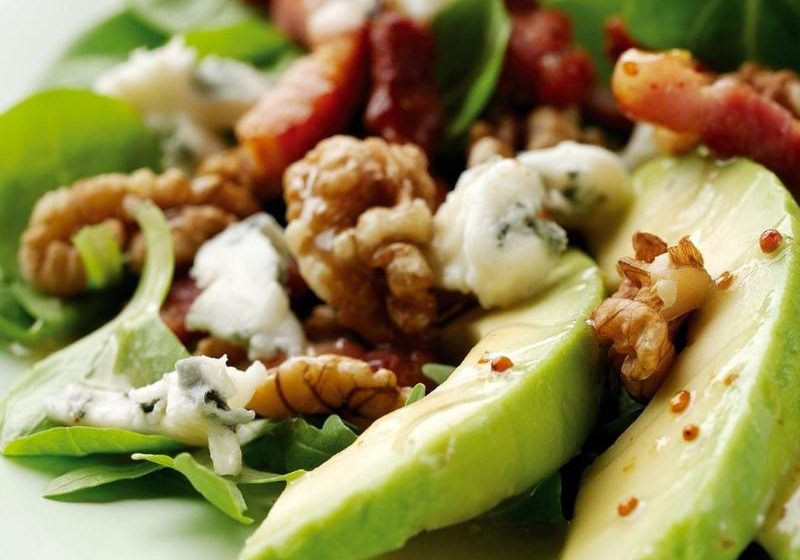 How to make it
Make you and your friends a brilliant brunch with this Bacon, Avocado & Roquefort Salad. Salty, strong, silky and sweet, Roquefort is incomparable.
Fry the lardons in a splash of oil until crispy
Transfer to a piece of kitchen towel and pat off the excess oil
Divide the salad leaves between 4 plates and top with equal shares of avocado, lardons and walnuts
Pour Tracklements Honey Mustard Vinaigrette into the frying pan and warm through
Spoon over each plate
Top with a crumbling of Roquefort
Serve this Roquefort salad with warm ciabatta
Recipe courtesy of Tracklements
Other salads
When sweet, velvety pumpkins are available, make the most of them in a decadent salad with beetroot and goats' cheese. Of course you could buy everything pre-prepared, but if you're looking to cook from scratch, here's a recipe for a gorgeous, warm pumpkin salad.
This is a fabulous and easy starter idea. The trick to making this salad really come to life is to use a blue cheese that delivers a strong flavour hit, and Bleu d'Auvergne does just that.
A delicious salad of warm fine green beans and tiny new potatoes with chunks of wonderful organic Bath Soft Cheese as a starter, light lunch or healthy supper.