Goats' Cheese Puff Pastry Pizza with Chunky Tomato Chutney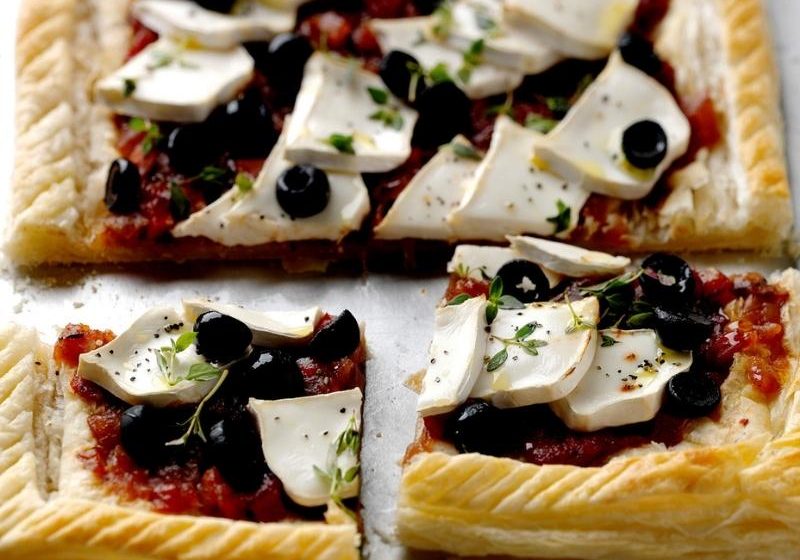 Ingredients
500g pack puff pastry
8 tsp Tomato & Chilli Chutney 
100g goats' cheese such as Monte Enebro, sliced
Fresh thyme, chopped
Olive oil and black pepper to serve
150g pitted black olives, sliced
How to make it
A Goats' Cheese Puff Pastry Pizza is the perfect light summer dish. It would go down very well at a picnic, a party or lunch with friends. We recommend a goats' cheese that is easy to slice – Monte Enebro would be perfect.
Preheat the oven to 200oC/400oF/gas mark 6.
Roll out the puff pastry into a large rectangle approx. ½ cm thick.
With a sharp knife, score a rectangle, about 1 inch in from the outside edge being careful not to cut all the way through.
Place on a baking tray.
Bake the pastry in the oven for 10 mins, take out and push the centre down with the back of a spoon leaving the outside edge raised.
Spread the Tomato & Chilli Chutney over the middle of the pastry.
Cover with the slices of cheese and sprinkle with the olives and thyme.
Bake in the oven for 20 mins or until the pastry is golden and flaky.
Recipe courtesy of Tracklements.
Other Goat's Cheese recipes:
Best served warm, these Little Lepe Puff Pastry Parcels offer a bite of heaven with creamy smooth goat's cheese and a punch of sweet sticky fig relish. We've adapted the original recipe as four just didn't seem enough to us, but then 12 won't last long either!
Goats' cheese tart is full of flavour, simple to make and will take your picnic fare from ordinary to extraordinary!
Goats' Cheese Lasagne is an interesting vegetarian twist on the traditional lasagne using sweet, caramelised onion marmalade for full-bodied flavour.