Goats' Cheese Toasts with Sticky Fig Relish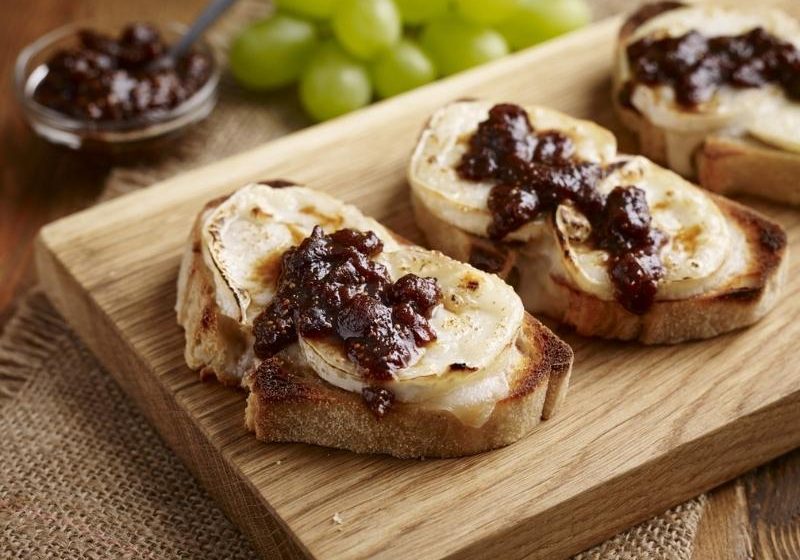 How to make it
Goats' Cheese Toasts make a truly simple yet delicious lunch. Bocconcino di Langa is our choice of goat's cheese as it'll melt just enough to still offer firmness. Paired with Sticky fig relish for extra tang.
Pre-heat the grill to medium-high.
Cut the baguette into slices about 1cm-2cm thick and slice the goats' cheese thinly.
Place the baguette slices onto a baking tray and place two slices of goats' cheese on top of each piece of baguette.
Add a spoonful of Sticky Fig Relish on top of the goats' cheese.
Grill the Goats' Cheese Toasts in the oven until the the bread is toasted and the goats' cheese has started to melt.
Recipe courtesy of Tracklements.
Other recipe ideas:
The classic combo of blue cheese and walnuts is the main component to these canapé toasts. Sweet onion marmalade adds sweet to the salty and freshness to the nuttiness.
Sourdough Emmental toastie stuffed with salt beef, sauerkraut and dill mustard sauce is the sandwich choice of connoisseurs. Eat with a side of gherkins and a twist of the moustache tip.
These breakfast muffins are a favourite for a certain body coach, as well as those who follow a keto diet. Great for on the go, and super tasty too.