Breakfast Muffins with Cheese, Ham and Spinach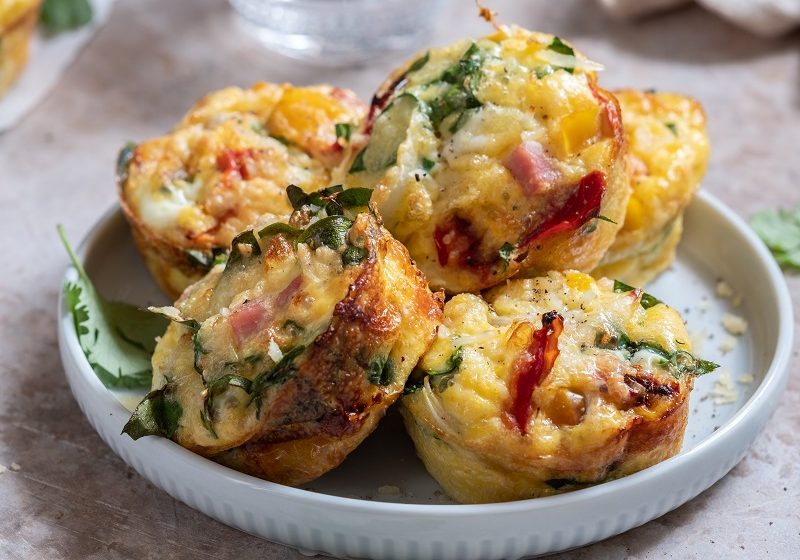 Ingredients
5 large eggs
Salt and black pepper
1 tsp garlic powder
1/2 tsp Italian seasoning
125g diced cooked ham
125g cheese, cubed, grated or sliced
125g chopped spinach
How to make it
These breakfast muffins are a favourite for a certain body coach, as well as those who follow a keto diet. Great for on the go, and super tasty too. You can actually use any cheeses you like in this, perfect for using up left overs. We've used Yarg for ours because it crumbles nicely and adds a lovely flavour dimension.
Preheat your oven to 180°C fan (200°C / 400°F / gas mark 6
Grease a muffin pan with oil or non-stick cooking spray
In a mixing bowl, whisk together the eggs
Add the garlic powder, Italian seasoning, salt, and black pepper
In each muffin hole add a little of the ham, cheese, and spinach
Pour the whisked eggs over the filling ingredients
Top each with a sprinkle of more cheese
Bake the muffins for around 12-15 mins
Can be eaten hot or cold
And when we say breakfast muffins, we of course also mean brunch muffins, lunch muffins, snack muffins, dinner muffins etc…
We've also got these soft and bouncy Yorkshire blue muffins and buttery Goddess pine nut studded muffins. These breakfast muffins are also great as a side to soups, such as Watercress and Celeriac with Goat's Cheese Crouton, Fish and Wookey Hole Cheddar soup, and Leek, Broccoli and Stilton Soup.