Blue Cheese and Walnut Toasts with Caramelised Onion Marmalade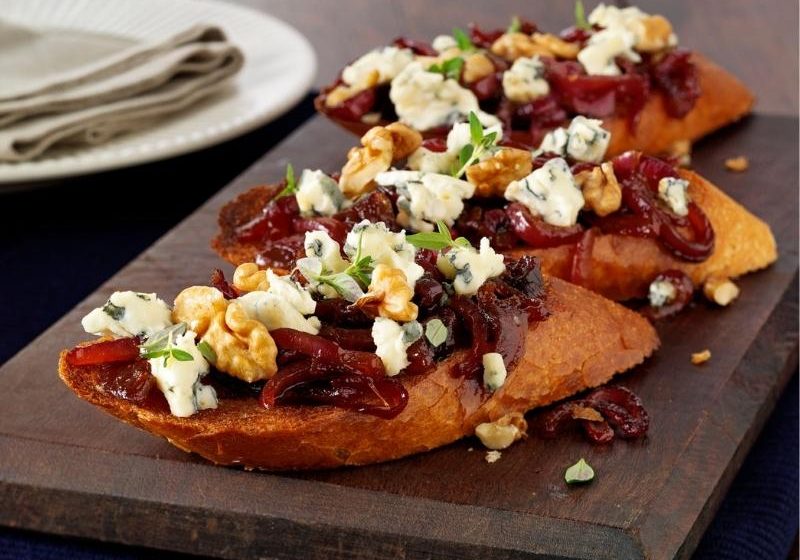 How to make it
The classic combo of blue cheese and walnut is the main component to these canapé toasts. Sweet onion marmalade adds sweet to the salty and freshness to the nuttiness.
Cut the French bread into 1 inch thick diagonal slices
Brush both sides with olive oil
Cook under a hot grill until just golden
Top with the Onion Marmalade
Crumble the blue cheese and scatter over the top of the relish with the walnuts
Grill again for just a minute until the blue cheese begins to melt
Serve hot topped with a few sprigs of thyme
Recipe courtesy of Tracklements
Other canapé ideas
These three cheese topped mushrooms are all in the Bath Organic Selection Box. Together they make a gorgeous mouthful packed with complex flavours.
Bresaola is a cured beef that comes from the Valtellina area of northern Italy. Normally served as an antipasti, this recipe uses it to create little goat's cheese parcels that work as a party canapé or just a tasty snack.
The combination of salty bacon, sweet date and savoury Bocconcino di Langa make these cheese wrapped dates totally scrumptious. Bocconcino means "little mouthful" so it seems the perfect cheese to use.
A retro classic with it's party hat on, these mini Cordon Bleus are a showstopper. Ensure you make enough because they will be the first party canapé to go!