Gorgonzola Blue Cheese Dressing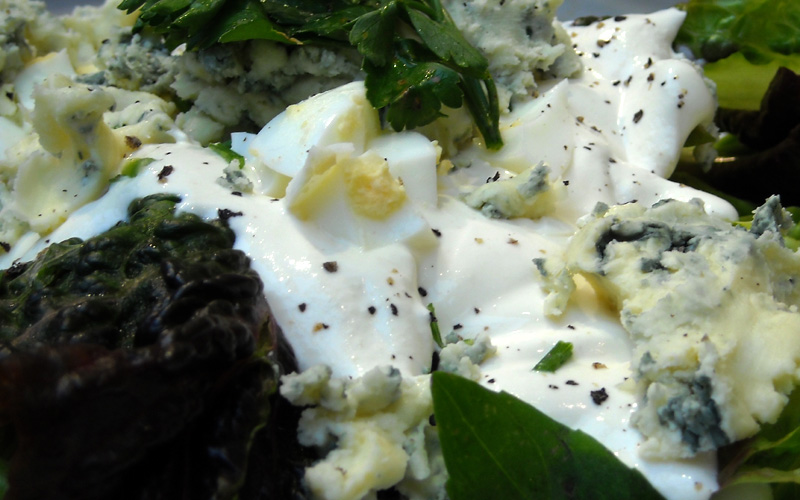 Ingredients
(Serves 4)
1 tsp French or dijon mustard
1 tsp sugar
2 tsp white wine vinegar
1 small clove garlic, crushed
1 hard-boiled egg, yolk and white separated
½ pint double cream
1 handful of chives, chopped
150g (5oz) Gorgonzola Dolce DOP
Cos or little gem lettuce
How to make it
A Gorgonzola Blue Cheese Dressing is great with steak and chips. It's salty and sweet and simple to make!
Stir together the mustard, sugar, vinegar and garlic in a bowl
Add the egg yolk, then stir in the cream
Pour the dressing over some torn cos or little gem lettuce
Scatter over the chopped egg white, chives and the crumbled Gorgonzola Dolce
Other recipes using Gorgonzola Dolce
This Gorgonzola Pasta Bake has a crusty walnut and bread topping which makes it like a crumble. With added vegetables it's a great dinner option for the whole family.
Gorgonzola Quiche is a perfect summertime meal as it can be served hot or cold, as a main meal or light bite.
You can make this dish with pre-bought gnocchi, but if you fancy trying your own, here's a great recipe.
Gorgonzola Wine Pairing
The 'off-dry, semi-fizzy' Lambrusco Salamino matches the subtle sweetness of Gorgonzola. It has a lower alcohol content of 8% making an interesting change to the big reds and ports more commonly paired with cheese.
Wine number two? How about the award-winning Ca' Vegar Custoza DOC Garganega blend white wine. Quality is key with this wine, and you can definitely tell with its pear and tropical fruit aroma and flavours. It definitely has the capability of standing up to the strong, stunning taste of Gorgonzola Dolce DOP.