Grilled sirloin steak with blue cheese, quince and pear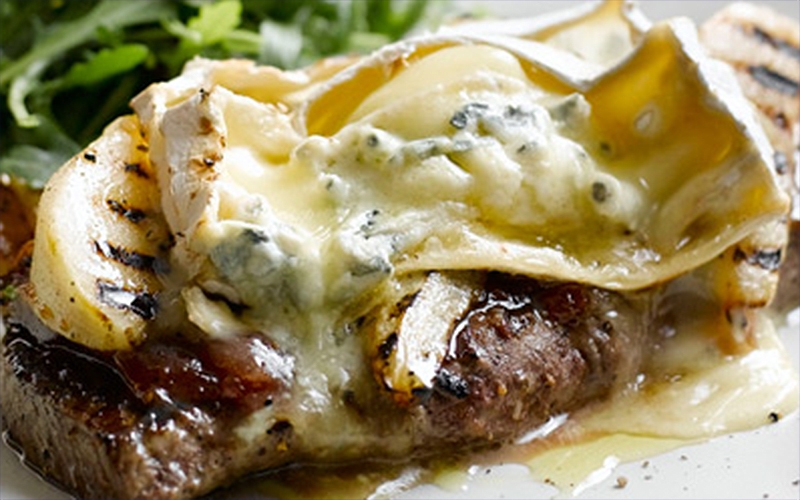 Ingredients
(Serves 2)
2 x 200g sirloin steak
2 tbsp quince jelly
1 pear peeled and cut into 8 wedges
Simon Weaver Organic Cotswold Blue Brie
How to make it
When you want to make a special dinner, try this steak with blue cheese recipe. The quince and pear adds a gorgeous sweetness that works with the salty blue and tender steak.
Simply grill the steak and pear until it's almost ready and grill the pear alongside it for the same amount of time.  Then spoon over the quince jelly to cover the meat. Arrange four pieces of pear on
top of each steak. Now cut the Organic Cotswold Blue-Veined Brie into 1cm thick slices and place over the pears, return to grill and cook until the cheese melts. Great with new potatoes or chunky chips and salad leaves.
Grilled sirloin steak with Blue cheese, quince and pear recipe courtesy of www.simonweaver.net
Other recipes
This is the ideal date night dinner – well cooked fillet steak with a gorgeous cheesy surprise in the centre. The bacon keeps the steaks nice and juicy.
Beauvale by Cropwell Bishop is a slightly milder blue than Stilton, but with an excellent depth of flavour and rich, soft taste. It's perfect with pasta and balances well with meat which is why it's the ideal blue for this Steak Pappardelle.
Crozier Blue is the perfect blue to use for a blue cheese dressing with its rich, full and well-rounded flavour. Here's a recipe.