Chicken and Farleigh Wallop Cheese Stuffed Rolls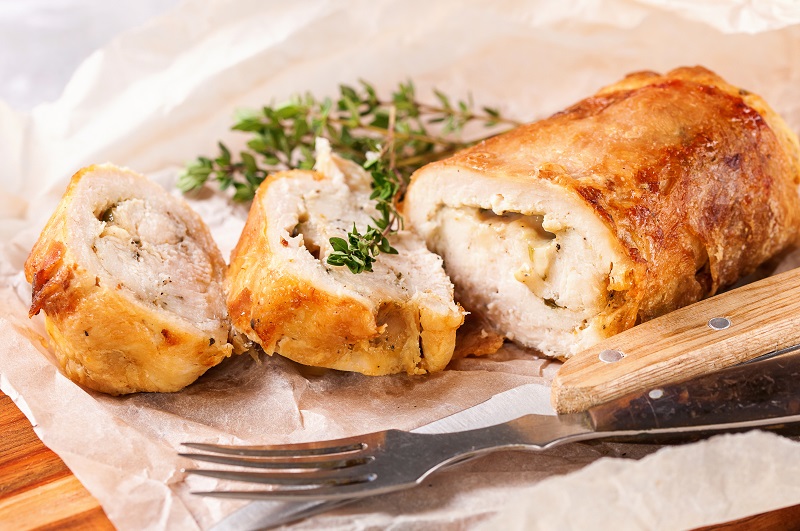 Ingredients
1 chicken breast per person (ingredients below per chicken breast)
100g Farleigh Wallop (with rind)
Salt
Pepper
Garlic Powder
100g Flour
1 egg, beaten
Dried thyme
How to make it
Farleigh Wallop is the cheese of choice for these chicken and cheese stuffed rolls, that's because it's soft with gentle flavours, and is infused with hints of thyme. You can make this into one big chicken dish or bite sizes for parties.
Layout a sheet of cling film and place your chicken piece in the centre
Slice across the piece, making approx 4 thin slices – spread out on the cling film
cover the chicken in another layer of cling film and using a tenderiser, hit the chicken until the slices are uniformly thin
Season with salt, pepper and garlic powder
If you're making mini bites then each piece of chicken will become a bite – wrap a small slice of Farleigh Wallop inside each piece of chicken, securing with a toothpick
If you're making a large roast then combine the chicken slices to make one big layer of chicken. Then wrap over the Farleigh Wallop, securing with toothpicks
Coat the chicken roll in egg, then in flour
Fry in a non-stick pan until all sides are golden
Place in oven for a further 10-15 minutes
Serve these chicken cheese stuffed rolls with a sprinkling of thyme
Other recipes:
This Goat's cheese and pasta salad is the quintessential summertime meal, light and fresh but filling enough for supper.
A simple layered vegetarian dish that makes the most of aubergines, fabulous Farleigh Wallop goat's cheese and mighty Montgomery Cheddar.