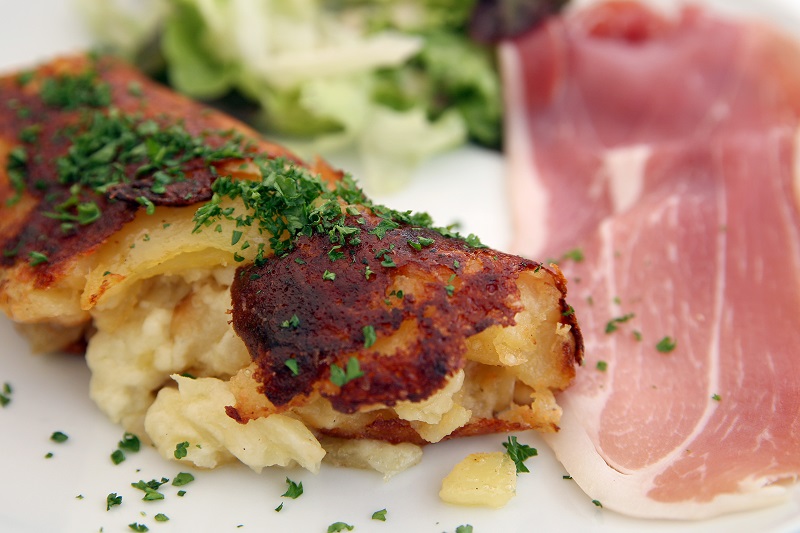 Ingredients
Olive oil or melted butter to grease the dish

1 large onion, peeled and sliced

225g diced streaky bacon lardons

675g baking potatoes, very thinly sliced

150g Le Gruyere AOC 

Freshly grated nutmeg

sea salt and freshly ground black pepper

A handful of flat leafed parsley
How to make it
This French dish is traditionally made with Cantal cheese but any hard cheese that is full of flavour will work – we use Le Gruyere AOC. Truffade is a great quick meal for supper, enjoyed with cured meats and salad leaves.
Fry the bacon lardons and onions for around 4 minutes and put to one side

Grease the base of a shallow baking dish or roasting tin

Arrange a layer of onions and bacon in the base

Top with a layer of potatoes, then a layer of grated Le Gruyere

Arrange another layer of bacon lardons and onions

Finish with a final layer of potatoes topped with cheese

Season with nutmeg, salt and pepper

Add a few dabs of butter or oil around the dish

Bake for approx 1 hour, ten minutes, 180°C fan / 200°C

Remove and allow to rest for 5 minutes

Serve the Truffade with a sprinkle of chopped parsley
Other recipes
Rôti de veau Orloff is a classic French dish that works great as an alternative roast option. Filled with deliciously tangy Le Gruyere and salty bacon and served on a platter of vegetables, this looks and tastes the part.
Emmental is a medium hard cheese with a slightly sweet and nutty taste used in this Cheese and Onion Tart. It's very simple to recreate and would be great as a main course and can be eaten either hot or cold. This tart is great when accompanied by a Beurre Blanc sauce and watercress salad.