Baked Goat's Cheese Balls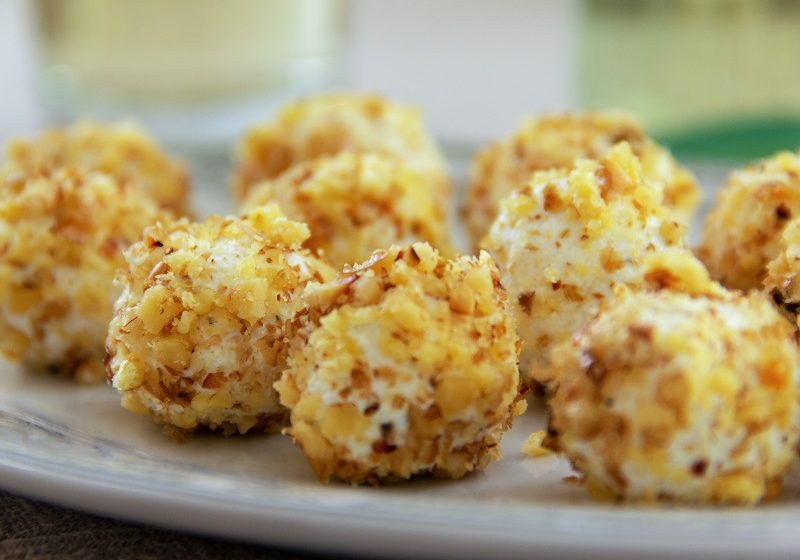 Ingredients
220g Dazel Ash Log
30g walnuts
1 tsp mixed herbs
100g panko breadcrumbs
2 eggs
Honey
Oil spray
How to make it
As these goat's cheese balls are baked rather than fried, they're a lot lighter and allows you to keep the freshness of the goat's cheese flavour. We're using Dazel Ash Log as it has a very smooth clean flavour.
Preheat oven to 400°F/200°C/Gas Mark 6
Cut the Dazel Ash Log into 24 portions, and roll into balls
Finely chop and crush the walnuts
Mix the walnuts with the panko breadcrumbs and the Italian herbs
Crack  the eggs into a bowl and whisk
Prepare the bowls in order (cheese balls, egg wash, breadcrumbs), finishing with a parchment lined baking tray
Take a goats cheese ball and dip into the egg, then the breadcrumbs
You can repeat these two steps as necessary to give each ball a good coating
Spray the goat's cheese balls with a light coating of oil
Bake in the centre of the oven  for 8 minutes, or until they've turned a nice golden brown
Allow to cool slightly, then drizzle with honey before serving
Other recipes
Goats Cheese Tarts are a great spring or summer dish, light and fluffy pastry with a creamy flavour and fluffy texture. We suggest serving with green leaves and a smear of olive paste or balsamic reduction and a helping of sun-ripened tomatoes.
We've totally cheated in this cheese vol-au-vent recipe, using ready-made puff pastry and pre-cooked chicken. But the filling is the star of the show. Made with rich triple-cream Bix it's a total showstopper.
Feed your soul with this warming delicious watercress and celeriac soup, with a crunchy goat's cheese crouton.
The combination of salty bacon, sweet date and savoury Bocconcino di Langa make these cheese wrapped dates totally scrumptious.
These Ragstone Log and pistachio balls make an excellent starter, or a snack for evening entertaining. The tangy, creamy Ragstone goat's cheese is well complimented by the savoury, salty, nutty pistachio flavours, and the green colour really adds some pizzazz!