Golden Cross Goats Cheese Tarts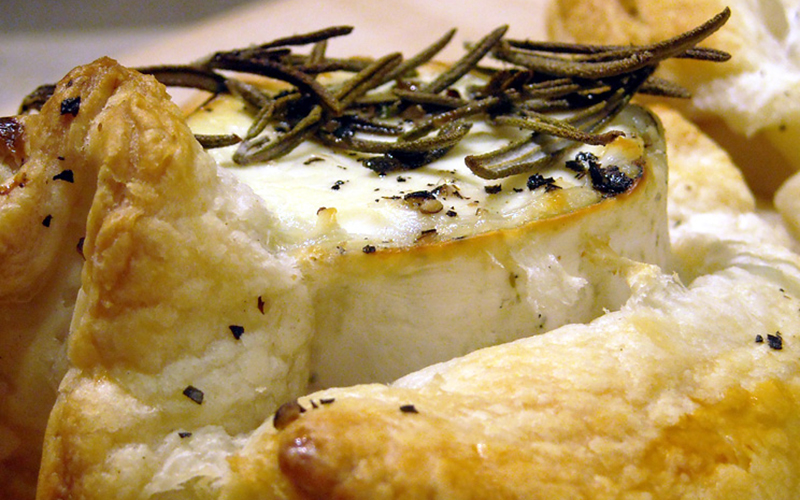 Ingredients
(Serves 6)
375g ready-rolled puff pastry
2 Golden Cross logs
1 free range egg, beaten
sprig of rosemary or thyme
How to make it
Goats Cheese Tarts are a great spring dish, light and fluffy pastry with a creamy flavour and fluffy texture. We suggest serving with a smear of olive paste or balsamic reduction and a helping of sun-ripened tomatoes.
Preheat oven to 220. Cut the pastry into 6 equal pieces of about 13cm diameter squares.
Slice each Golden Cross goat's cheese log into 5cm slices and place each cheese cylinder on a pastry square.
Brush with a beaten egg.
Pinch together pastry at the edges around the cheese to form a diamond, leaving the surface of the Golden Cross revealed.
Pop a sprig of rosemary or thyme on top and bake the goats cheese tarts in the oven on a lightly greased baking tray for 15 minutes.
Serve with green leaves.
Golden Cross can be found in the Vegetarian Cheese Lover's Box and The Best Mum in the World Box. It's also available in the Vegetarian Cheese Lover's Deluxe Box.
If there's a better combination than Goat's cheese, beetroot and walnut we're yet to find it. Golden Cross is a bit sweeter than other goat's cheeses so it works particularly well with the savoury walnuts. Try it in this gorgeous Beetroot, Walnut and Goat's Cheese Salad.