Mushroom, Chicken and Cheese Vol-au-Vent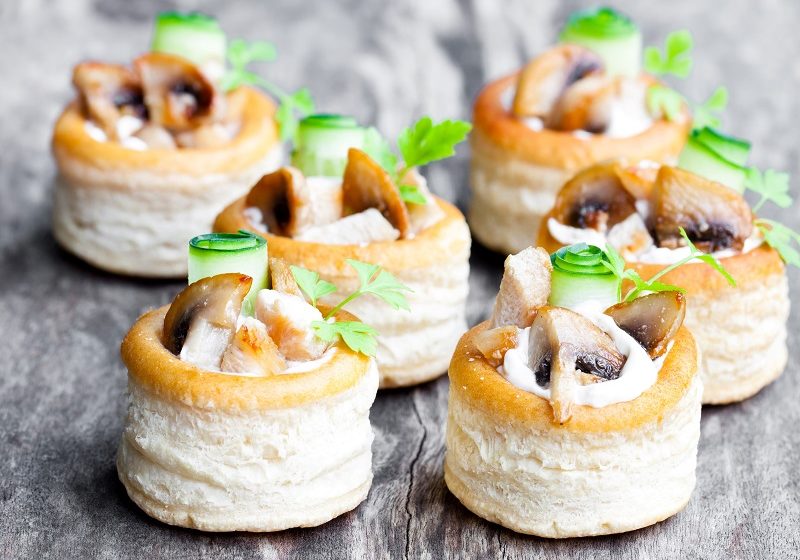 Ingredients
Makes six
1 pack of ready-rolled puff pastry
1 large egg
1 tbsp milk
1 cup of finely chopped chicken
150g mushrooms
100g Bix
Cucumber, sliced thinly
Salt & pepper
Oil
How to make it
We've cheated in this cheese vol-au-vent recipe, using ready-made puff pastry and pre-cooked chicken. But the filling is the star of the show. Made with rich triple-cream Bix it's a total showstopper.
Filling preparation
In a frying pan, fry off the mushrooms with a little oil, until they have soaked up all moisture
Put to one side to cool
Pastry preparation
Preheat the oven to 400°F/200°C/Gas Mark 6
Lightly flour a clean surface
Unfold a puff pastry sheet
Using a smooth, round cutter, cut out 12 circles – you may need to re fold and roll to get 12
With 6 of the circles, use a smaller cutter to take out the middle, so you have six circular rings
Place the rings on top of the six untouched circles. This is the basic shape of the vol-au-vent before adding the filling
Whisk up egg and milk, and then brush the mixture over the pastry
Ideally, chill for 15-30 minutes before baking
Bake for 15 mins until light golden
Assembly
Mix the cheese with the chicken and some of the mushrooms
Add salt and pepper to taste
Spoon some of the filling into each par-baked vol-au-vent
Place the remaining mushrooms on the surface in a nice decoration
Put back into the oven for another 5-7 minutes, or until the cheese is bubbling and each cheese vol-au-vent is a nice darker brown
Finish each with a slice of cucumber and a sprig of fresh parsley
Serve warm
Other cheese party foods
These Goats Cheese Tarts are a great spring or summer dish, light and fluffy pastry with a creamy flavour and fluffy texture.
Pin Wheels are great as party appetisers or as snacks, and they are simple to make and can even be frozen so that you can throw them in the oven when unexpected guests turn up.
The combination of salty bacon, sweet date and savoury Bocconcino di Langa make these cheese wrapped dates totally scrumptious.