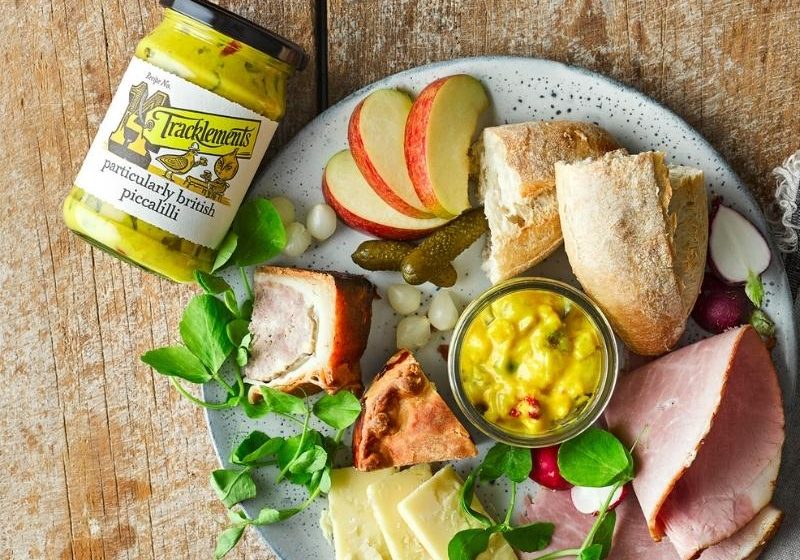 How to make it
Piccalilli Ploughman's is a classic summer British dish that brings together essential picnic items so you and your companions can pick and nibble at your favourite flavours. It's easy to arrange, here's how.
Love this Piccalilli Ploughman's recipe?  We've got a sandwich version of this dish, a guide to cheese accompaniments and some info on the history of Ploughman's Lunch.
Recipe courtesy of Tracklements
Somerset Organic Cheddar recipes
The creamy, tangy and complex flavours of Somerset Organic Cheddar comes to life in this warming and hearty soup. Serve with a hunk of bread of a glass of your favourite Cider for a West Country celebration.
This Rarebit recipe comes with a Somerset twist. It uses Somerset Cheddar and Bath Soft, both from the organic farm Bath Soft Cheese and featured in The Bath Organic Selection Box. This is a lovely dish to serve up as a light snack or as part of afternoon tea.
This creamy vintage cheddar, ham and pea risotto enjoys flavours from three cheeses: tangy and sharp from the cheddar, nutty and salty from the parmesan and sweet, creamy flavours from the mascarpone. Ideal for a mid-week dinner with a rocket salad or some steamed greens.