How to Create The Perfect Christmas Cheeseboard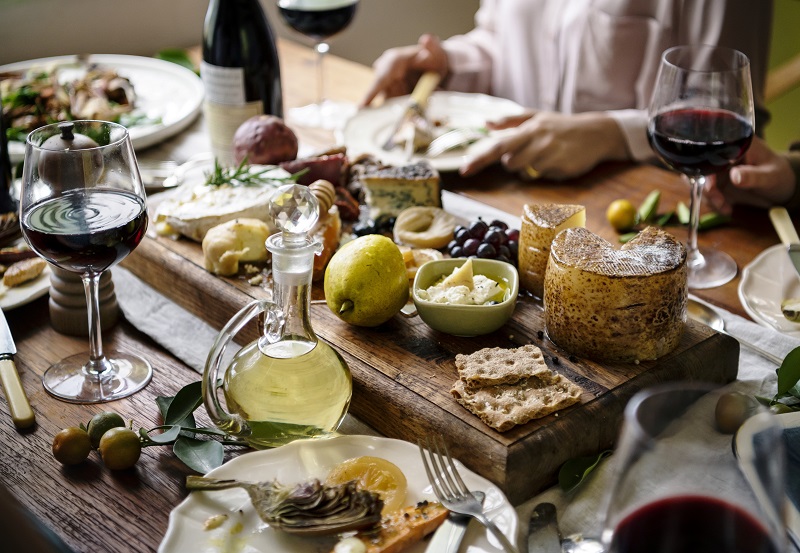 It's a truth universally acknowledged that no matter how much Christmas dinner we've had, we can always find space for cheese. Whether it's served before dessert like the French, so you can continue to enjoy your wine from the main course, after dessert, or even as a starter; the cheese course is a great opportunity to wow your guests. And at Christmas time, you can really push the boat out and create something spectacular…
Which board to use?
There are no hard and fast rules to what you should serve your cheese on – some choose wooden board, some slate, others choose ceramic or marble. Marble and ceramic boards tend to offer a cooler surface as they absorb temperature more easily. If this is your choice, we recommend not leaving it in the fridge prior to serving. Wood tends to be the most common choice for board as it's reliable, easy to clean and looks fantastic, although wood boards will retain smells more than marble or slate. Slate cheese boards are increasingly being favoured because they contrast nicely with the cheese and are easy to clean, whilst still looking rustic – a nice balance between a wood and a marble / ceramic option. And don't forget the knives!
Fruits & nuts
Not only does fresh fruit look fantastic on a cheeseboard, it is a great palette cleanser so that you can enjoy some of the more delicate flavours even after eating a strong cheese. It also offers sweetness which works well with the savouriness of cheese. Grapes are the obvious choice, but we encourage you to explore other 'Christmassy' options too such as pomegranates, figs, pears, dates and spiced quince.
Nuts are also a Christmas essential for many and they look fabulous on the cheeseboard. The flavours pair exceptionally well with cheese. Choose bitter nuts such as walnuts, pecans or almonds.
Crackers
Crackers offer an additional flavour and texture in every mouthful so it's important to think about which crackers to serve. Basic savoury crackers just won't do! Rosemary infused biscuits are popular and work well with goat's cheese or a creamy brie. Oat crackers offer a rustic flavour with a flaky texture and work well with farmhouse cheddars. Malted wheat brings sweetness that pairs well with salty blues, seeded crackers deliver unique texture that works well with creamy soft cheeses such as camembert. We have a preference towards light and crispy textures which balance well with all types of cheeses. Try our cheese biscuit range here.
Chutneys / accompaniments
Chutneys, jams and pickles are made for cheese (literally in some cases) so it's a crime not to add some to a Christmas cheeseboard for an additional flavour. Traditional onion and apple-based chutneys are excellent with all cheeses, Tomato and chilli chutneys add a kick to hard and sweet cheeses such as Pecorino, and a sticky marmalade will add incredible sweetness to the saltiness of any blue cheese. For Christmas, why not seek out a chutney with some Christmas spice in – look out for ingredients such as ginger, nutmeg, cinnamon and allspice.
Meats
The ideal meat to serve with cheese is cured charcuterie meats, such as salami, prosciutto or ham. There are so many excellent dried meats available so choose a variety; smoked, herb covered, flavour infused, different cuts and from different countries. As you would expect, those with more delicate flavours work well with delicate cheeses, such as Bresaola with Banon  or Salami with Comte. Arrangement is of course subjective, but we like to separate the layers and make a messy pile of each type to dig into.
The Cheese…
The star of the show! Ideally what you want is a symphony of tastes and textures to dazzle your diners' taste buds. We recommend serving from three to five cheeses with good variety for a Christmas Cheeseboard.  Many of our cheese boxes are designed with this in mind so you can't go far wrong with a Pong Christmas Explorer Box or a Pong Christmas Extravaganza Box. There are of course no hard and fast rules but a well-balanced board would include a hard cheese such as a cheddar or Lincolnshire Poacher, a soft cheese such as a Bix or Carboncino, a blue such as Harrogate Blue or Stilton, a washed or flavoured cheese such as Alex James Co.'s Grunge or Epoisses de Bourgogne AOC and finally a goats or sheep cheese such as Valencay or Alex James Co.'s No 6 Sheep's cheese.
Find out the stories behind each cheese and producer and you can add trivia and interest as your guests make their way through the board. Few other foods are created by a single person: it is quite possible to say this cheese was created by Caroline and Leonie in their converted shed above the village of Curthwaite and to trace the milk right back to an exact herd or flock. Cheese has been shaped by religions, armies, and of course necessity. Indeed, we can trace certain types of cheese we eat today to ancient generations of people. For example, sweet, hard, sheep's milk cheese to the Phoenician traders, stinking wash-rinded cheeses to the Cistercians and our ashed goats' to the Moors.
Decorations
If you have any space left on the board, you may want to add a few sprigs of greenery, perhaps rosemary, thyme, or even some rocket leaves. Or as it's a Christmas Cheeseboard, how about a stick of cinnamon or star anise. It'll add colour and a heavenly scent too!
Arrangement and serving
Remove all the packaging and serve as whole cheeses as they are, leaving on the rinds. Mix up colours and shapes until it looks balanced, with softer cheeses in the middle and harder cheeses around the outside so they're easier to cut. Serve each cheese with its own knife to avoid mixing flavours and allow for around 80g to 120g per person.
Timing
Cheese is best served at room temperature; indeed, you may find the flavour of some cheeses are muted if you eat straight out of the fridge, and cheese should be enjoyed at its best. Brie, for instance, needs to be soft and oozy when served, for optimum texture and flavour. Even hard cheeses can seem bland or dry if they're too cold. We recommend taking it out the fridge at least two hours before serving.  
Storage
In the unlikely event that some cheese is left over, we recommend wrapping the remainder tightly in foil or clingfilm, then keeping it in an airtight container in the bottom part of the fridge. That will help ensure no air gets to the cheese and makes it hard, plus it will help contain the smell. The cheese can then be easily unwrapped and served up again another day. Alternatively, you could use it in a recipe, such as these cheese and turkey potato cakes or Turkey, Brie and Cranberry Sandwiches.